The Second Chance Club: Hardship and Hope After Prison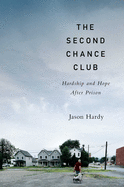 Frustrated by a series of dead-end jobs, Jason Hardy became a parole officer in New Orleans in an attempt to do some good in the world. A white, well-educated man from a middle-class family, he soon realized his upbringing and advantages had given him almost no context for the people and problems he would encounter in his new job. The Second Chance Club, Hardy's first book, gives a thoughtful, timely account of the largely hidden probation-and-parole arm of the U.S. criminal justice system.
Hardy takes readers inside the nitty-gritty routine of a parole officer's days and weeks: checking up on offenders who have served jail or prison time and trying to help them find employment, stay off drugs or get the physical or mental health care they need. A parole officer must also weigh the risks the offender is facing against the risks they present to their communities: many offenders end up hurting themselves or other people out of sheer desperation, and officers must try to step in before that happens.
Mass incarceration in the U.S. is increasingly well documented, but probation and parole (P&P) receives much less attention and funding, especially at the state level. Hardy argues that it's worth investing in offenders because they are human beings who have made mistakes, struggled against overwhelming odds and deserve a chance at lasting happiness. Well-researched, compelling and deeply humane, The Second Chance Club is an important addition to the voices calling for criminal justice reform in the U.S. --Katie Noah Gibson, blogger at Cakes, Tea and Dreams