Everything I Know about Love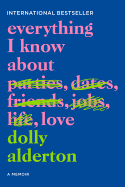 An international bestseller, Everything I Know About Love: A Memoir by Dolly Alderton is a rapturous and moving chronicle of a young woman having fun, battling personal demons and surviving early adulthood with steadfast female friends at her side.
Alderton, a former Sunday Times columnist and co-creator of pop culture podcast The High Low, relished adulthood when it came. She pulled "hedonistic all-nighters" in search of the "pots of experiential gold hidden on every street corner." Alcohol precipitated reckless adventures with "anecdotal mileage," like bankrupting herself for a 90-minute cab ride to a 5:30 a.m. afterparty. Decreasing her "blackout benders" allowed her to focus on jobs in TV and later as a dating columnist. What Alderton most wanted, however, was love. Once she found the right man, she believed she'd feel "centered and calm." But as her best friend prepared for marriage and her flatmate moved out, Alderton became unmoored. Through therapy, she began to vanquish her mounting anxiety over adulthood, discussing her obsession with men and alcohol, her need to be the best person for everyone else, and the years she starved herself to gain control.
Readers can identify with Alderton's search for a sense of self. With wisdom and humility, Alderton imparts, via turbulently fun essays, a vital life lesson: being oneself is enough. Even through episodes typifying Alderton's "rambunctious, restless and ramshackle" 20s, the exuberant spirit of a woman brazenly expressing her individuality emerges. Her journey of breathtaking escapades--and the women who see her through them--will rally readers to both seize the moment and cultivate love for themselves. --Samantha Zaboski, freelance editor and reviewer