The Hidden Girl and Other Stories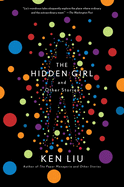 Ranging from 20th-century Hong Kong to the far reaches of the universe nearly a million years in the future, award-winning author and translator Ken Liu's second collection of short stories follows the progression of the human race with acute insights.
The Hidden Girl and Other Stories by Ken Liu (The Paper Menagerie) includes 18 science fiction and fantasy stories (including a novelette), plus an excerpt from The Veiled Throne (the third book in Liu's the Dandelion Dynasty series). It offers a penetrating exploration of themes like individualism, morality, racism, legacy and human identity. In "Maxwell's Demon," a Japanese American scientist during World War II, forced to spy to keep her family safe, finds that she can teach dead spirits to sort uranium molecules for weapons. In "The Reborn," a human law enforcer on alien-colonized Earth tracks down insurgents to erase their memories of lawbreaking, to "remove those parts... that are truly responsible for the crime--the mens rea, the evil will.'" In "The Gods Will Not Be Slain," humans across the globe leave the physical world as they upload their minds to a digital realm and "the last generation of humans in the flesh [depart], carried away by death or into the Data Center."
Each story begins in concrete certainty around a moral dilemma, only to be shaken apart as Liu incorporates new layers of context. Like much good science fiction, The Hidden Girl and Other Stories challenges the status quo with each story, offering a different view of humanity's past, present and future with two overarching questions throughout the collection: What makes us human, and what does it mean to be alive? --Jennifer Oleinik, freelance writer and editor