A Phoenix First Must Burn: Sixteen Stories of Black Girl Magic, Resistance, and Hope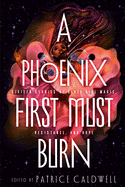 Sixteen authors, including volume editor Patrice Caldwell, serve up absolutely stunning science fiction and fantasy in this collection of short stories, the title of which is borrowed from the evergreen work of Octavia Butler.
Young Black women and gender-nonconforming folks are the heroes of each tale in A Phoenix First Must Burn. They are witches, mutants, shapeshifters, vampires and goddesses, all learning, loving and growing. Every one of the authors has developed a protagonist who grows into their full self, all with a focus on liberation beholden to the book's claim of being "Beyoncé's Lemonade for a teen audience."
The talented authors paint a vibrant visual album with their words, intentionally setting their characters in locales that are alternately exotic or seemingly mundane but always exciting. Amerie blasts the book off into outer space with the careful construction of "When Life Hands You a Lemon Fruit Bomb"--the story ends with an extraordinary beginning for two young women on a post-apocalyptic planet. The charming, funny protagonist in Justina Ireland's "Melie" is an approachable sorcerer-in-training doing, as most women must, two times the amount of work to advance as her male colleagues do (this includes collecting mermaids' tears and enlisting the help of dragons). Danny Lore's Jayleen braids out memories, providing comfort and healing for their girlfriend, Akilah, in "Tender-Headed," while in Karen Strong's "The Witch's Skin," Boo Hags revel in their wretched rides on a paradisiac island where society is segregated by color and class.
Proud, resilient, loving and hopeful, this book gives nuance and voice to a spectrum of truly wondrous Black experiences. --Breanna J. McDaniel, author and reviewer