Later: My Life at the Edge of the World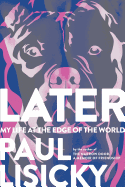 In his searing, lovely memoir Later: My Life at the Edge of the World, Paul Lisicky (The Narrow Door; Lawnboy) looks back at Provincetown, Mass., 1991-1994. It's a place for a young gay man to find a community; a haven for artists; a belated coming of age; the height of the AIDS epidemic--a place known simply, in the author's mind, as Town. It is "the edge of the world" both geographically and metaphorically.
Paul is in his early 30s when he moves to Provincetown as a Fellow at the Fine Arts Work Center, after years of graduate school. Early pages express his difficulty in leaving his mother, breaking up an interdependence. In Town, he finds a community where it feels safe to be openly gay, where sex is readily available. But young men are dropping all around him. "AIDS takes hold of a life, with all of its ideals and aspirations, and throws it to the pavement like a jar." Even as Paul's life blossoms, sex and death are interwoven. Later realizes that they will never be separated again.
This is not a memoir purely of loss and mourning, although those themes are always present. Lisicky's prose showcases his precise ear for language and eye for descriptive detail. Under such loving observation, Town is both microcosm and macrocosm. This is a book of yearning, of love and sorrow and wanting and, yes, hope: deeply vulnerable and attuned to the divine. Read Later for historical context or simply for its stunning truth and beauty. --Julia Kastner, librarian and blogger at pagesofjulia