Lurking: How a Person Became a User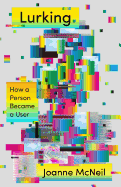 In Lurking: How a Person Became a User, technology writer and critic Joanne McNeil offers a thoughtful and thorough account of how users--also known as "people"--have made the extraordinary social space called the Internet. Most of these users participate online by not participating, or by "lurking"--reading, listening and learning. McNeil sees lurking as "listening and witnessing on the internet, rather than opining and capturing the attention of others"; it can also be "a waiting room for communication," a way to pause and prepare for exchange. By charting the evolution of many complex and divergent online communities, McNeil shows that lurking is not a passive activity but a productive one.
Lurking isn't organized by the linear, deterministic framework that characterizes many accounts of how the Internet came to be. Rather, the history McNeil presents is idiosyncratic and contradictory. She is knowledgeable about the technology that makes the Internet possible but not deferential to it, emphasizing that life online is characterized by "an operational clash of values between human ambiguity and machine explicitness. Humanity is the spice, the substrate, that machines cannot replicate."
McNeil takes an empathetic, incisive and refreshingly sincere tone. She resists cynicism, while remaining straightforwardly critical of the corrosive forces of capitalism, racism and misogyny. She is an idealist who is also careful to avoid the trap of pining for an Internet that never actually existed. In the end, she offers a blueprint for that better Internet, which she imagines as "a civic and independent body, where all people are welcome and respected." When described with McNeil's wisdom and sensitivity, it almost seems possible. --Hannah Calkins, writer and editor in Indianapolis, Ind.