Rediscover: Spillover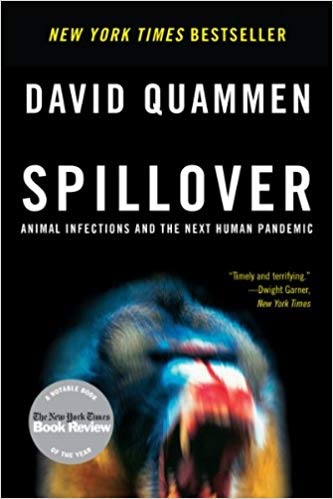 While the precise origin of the coronavirus currently sweeping the globe is unknown, it almost certainly originated somewhere in the animal world. The current primary suspects are horseshoe bats and pangolins, with the bats acting as a permanent reservoir for the virus and pangolins as the vector of transmission between bats and humans. Pangolins are endangered mammals (they look like crosses between anteaters and armadillos) that range across Africa, India and Southeast Asia. All eight pangolin species are under threat from habitat destruction and, more importantly, trafficking for their meat and scales. Though poaching is illegal in China, pangolins are frequently sold on the black market. This proximity to humans facilitates the spread of zoonotic diseases--pathogens that can jump from animals to humans.
Spillover: Animal Infections and the Next Human Pandemic
by David Quammen (2012) explores the harrowing world of zoonotic infections from Ebola and SARS to Lyme disease and AIDS. Quammen, a science writer and author of 15 books, tracks these diseases from their points of origin (including bats inhabiting caves in southern China) to the high-tech labs where spacesuited scientists study them.
Spillover
is available in paperback from Norton ($18.95, 9780393346619). --
Tobias Mutter