Stamped: Racism, Antiracism, and You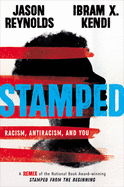 As Ibram X. Kendi states in his introduction to Stamped: Racism, Antiracism, and You, the "remix" of his National Book Award-winning adult nonfiction book, Stamped from the Beginning, Jason Reynolds is "one of the most gifted writers and thinkers of our time." With Stamped, Reynolds displays what is arguably his most important gift as a middle-grade and YA author: his ability to speak to and write for young people with respect and care.
"Before we begin, let's get something straight. This is not a history book. I repeat, this is not a history book. At least, not like the ones you're used to reading in school." And it's not. It's a "present book." It's an introduction to segregationists, assimilationists and antiracists; to the long history of racism in the U.S. and around the world; to the theories that prop up racist thought. It's a history specifically designed to explain today, as well as a call to action and a record of past and contemporary antiracists--it's an everything book.
Reynolds (Look Both Ways; Long Way Down) makes Stamped a conversation with the reader. This approach, in less capable hands, could go horribly wrong (think, "How do you do, fellow kids?"). But it is what makes Reynolds's interpretation so successful. Stamped is approachable: his tone is welcoming, helpful, easygoing and informal, even though--because--his topic is the shameful, disgusting and brutal history and present of racism. With further reading, source notes and an index, Stamped is a fantastic starting point for anyone interested in understanding our world a little bit better. --Siân Gaetano, children's and YA editor, Shelf Awareness