The Sun Down Motel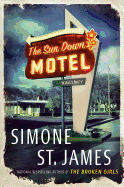 Angry ghosts trapped at The Sun Down Motel hold the key to the deaths of three women in this leave-the-lights-on thriller by Simone St. James (The Broken Girls).
In 1982, 20-year-old hitchhiker Viv Delaney forces the suddenly handsy driver of her latest ride to let her out of his car. The driver drops her off in front of a sketchy looking place called the Sun Down Motel, in a small town, Fell, in upstate New York. It's the last place she's seen alive.
Thirty-five years later, Viv's niece, Carly Kirk, drops out of college after her mother (Viv's sister) dies, and decides to find out what happened to her aunt. Carly travels to Fell from Illinois and takes a job as the Sun Down's night clerk to retrace her aunt's final days.
Creepy guests check in at all hours of the night. Doors open and close by themselves. The motel lights flicker and go out at random times. The ghosts of a man and a boy try to communicate with Carly. Another ghost regularly appears and yells at Carly to "Run!" Retired police officer Alma Trent, who worked Viv's case, knows something, and Fell resident and freelance photographer Marnie Clark has information, too, but neither will help.
Alternating points of view between Viv's in 1982 and Carly's in 2017 keep readers engrossed, but the author's insight into how little has changed in how women are treated--despite the 35 years between the heroines' experiences--is what makes this paranormal mystery compelling. --Paul Dinh-McCrillis, freelance reviewer