The Unexpected Spy: From the CIA to the FBI, My Secret Life Taking Down Some of the World's Most Notorious Terrorists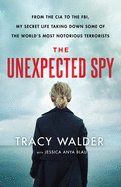 Tracy Walder, a blonde, Jewish sorority girl from southern California, may have seemed like an unusual recruit for the CIA's counterterrorism unit. In her enthralling and fast-paced memoir, Walder illustrates how a self-professed news junkie who had always been fascinated by world events worked to make a difference. She applied to the CIA in college, and was working at Langley as a fresh-faced 23-year-old when September 11th happened. Her firsthand account of the dramatic shift in America's counterintelligence strategies after September 11th showcases several adventurous years working in Africa, Europe and the Middle East. Her fellow agents and the people she interrogated were often equally skeptical of her, openly doubting her abilities, and calling her "Malibu Barbie." But Walder persevered, and won people over with her diligence, until she began to struggle with feeling personally guilty for failing to stop terror attacks. She decided for her own mental health to leave the CIA and apply to the FBI instead, seeking more security and a posting stateside.
Walder's account of her years with the CIA in such a pivotal era offer a glimpse of what happened behind the scenes after September 11th. Her depiction of her time at the FBI, and of the intense training at Quantico, are also absorbing, if often frustrating, given the macho, male-dominant culture prevalent within the Bureau. Readers of memoirs, current events and U.S. history are all sure to enjoy The Unexpected Spy. --Jessica Howard, bookseller at Bookmans, Tucson, Ariz.