A Citizen's Guide to Beating Donald Trump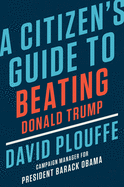 In his introduction to A Citizen's Guide to Beating Donald Trump, David Plouffe, who was Barack Obama's campaign manager, writes, "The year 2016 will scar us for as long as we breathe the same air that Trump befouls with his every word." Why mince words, David Plouffe? Tell us how you really feel!
A Citizen's Guide to Beating Donald Trump forges ahead in this engagingly exercised vein. Plouffe offers a crash course in the American electoral system; supplies an invaluable chapter on battleground states; provides practical tools, like loose scripts to use on undecided voters; and assures readers of volunteerism's social rewards. He's an amiable taskmaster ("Yup, you naysayers are going to have to reactivate your Facebook and Twitter accounts") whose advice is often reinforced with stories from the Obama campaign trail. At times, Plouffe, who also wrote The Audacity to Win: The Inside Story and Lessons of Barack Obama's Historic Victory, comes across as a nostalgic elder seizing the opportunity to relive his glory days for a captive audience, but given his role in Obama's momentous win, he's earned the right.
A Citizen's Guide to Beating Donald Trump may not tell a seasoned political activist anything she doesn't already know, but it's a superb jumping-off point for anyone new to volunteerism and energized for the fight in the fall of 2020--no matter what side a person is on. (Plouffe's tips can theoretically be of equal use to someone playing for the other team.) --Nell Beram, author and freelance writer