Abandoned: America's Lost Youth and the Crisis of Disconnection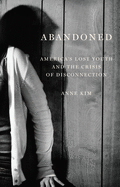 Drawing on extensive research and firsthand interviews with young adults across the United States, Abandoned offers a comprehensive look into the problems of disconnection in rising generations and "aims to bring [the] emerging discipline of youth policy into the mainstream." A journalist and lawyer with a public policy focus, Anne Kim succeeds in this aim; while the content of Abandoned is academic in nature, it is never dry, and the combination of data and anecdotes will appeal to policy wonks and general readers alike.
Kim explores recent science around adolescence and young adulthood as a formative period of a person's life before considering what disconnection looks like and how it is that nearly 4.5 million young people (or 11.5% of Americans between the ages of 16 and 24) are not participating in either school or work. She documents the "systems and institutions" (such as foster care and the criminal justice system) intended to help young people that have instead exacerbated the problem, and then offers concrete examples of programs that are working and policy suggestions that could better support young adults at minimal cost.
Kim is practical about the problems of disconnection. She addresses the many ways that racism, classism and privilege intersect to create pathways to opportunity for some, but not other, young adults, and outlines the hardships many disconnected youths face. But key to her approach--and suggested solutions--is an emphasis on the opportunity being overlooked in this population's untapped potential. "The investment we make in our young adults is a reflection of our collective vision for the county's future," she writes. Abandoned is a road map for what that vision could be. --Kerry McHugh, blogger at Entomology of a Bookworm