The Only Black Girls in Town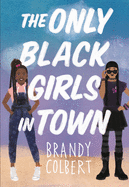 Stonewall Book Award-winning author Brandy Colbert (Little & Lion) tactfully covers friendship, race and identity in her middle-grade debut, The Only Black Girls in Town.
Twelve-year-old Alberta is a California surfer girl who has a pretty good life with her two dads in a quiet, mostly white beach town. Though she is comfortable in her own skin, "part of being Alberta is being black. And I don't blend in here in Ewing Beach." When a new girl, Edie, and her mother move in across the street, Alberta is excited about the opportunity to become friends with another black girl her age. But Edie is a goth Brooklynite who seems to be Alberta's opposite in style, attitude and personality. Alberta is conflicted: Would Edie really want to be her friend, or would she feel obligated to be friends because they're both black? The girls begin to grow close when they find a collection of mysterious journals. As they piece together the life of a woman named Constance, they discover how complicated people's identities can be and how deeply the past can both affect and mirror the future.
The Only Black Girls in Town should appeal to those who enjoyed The Parker Inheritance and You Go First; Colbert's well-articulated prose captures the difficulties of tween years without skirting around tough topics like racism, menstruation and bullying. Alberta and Edie's friendship feels genuine as they overcome their initial hesitations and have empathetic moments (as well as fights) that will ring true for readers. Colbert's first middle-grade novel truly shines. --Clarissa Hadge, freelance reviewer