Tyll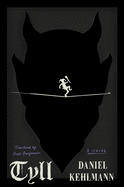 Tyll is a fresh reimagining of the impish German folk character of the same name, updated by Daniel Kehlmann and translated from the German by Ross Benjamin. The story of Tyll Ulenspiegel (aka Till Eulenspiegel) has been known since the 1300s. This version takes place during the Thirty Years' War, the 17th-century religious conflict in central Europe, and demonstrates how folklore continues to remain relevant over time.
Tyll grows up in a poor German village where life is full of superstition and brutality. After his father is hanged for practicing magic, young Tyll runs off. He "can't stop wondering where you would end up if you just kept going on and on." His skills at acrobatics and rhetorical trickery turn into an itinerant life of performing throughout Europe. He encounters a strong cast of supporting characters, including exiled royalty, dishonest priests and honorable thieves. These, along with Kehlmann's sumptuous descriptions of actions and setting, mimic the oral storytelling tradition--"sentences so perfectly constructed that they were beyond anything you yourself could ever have managed..."--from which Tyll arises.
Tyll symbolizes freedom during a time when religious and political conformity is the law, showing "what life could be like for someone who really did whatever he wanted, who believed in nothing and obeyed no one." Toward the end Tyll says, "When things get tight, I leave.... I'm not going to die!" Thus the author serves notice that stories of Tyll Ulenspiegel's adventures are not yet finished. Grand storytelling and a deep understanding of human impulses make Tyll a wonderful read. --Cindy Pauldine, bookseller, the river's end bookstore, Oswego, N.Y.