Gamayun Tales I: An Anthology of Modern Russian Folktales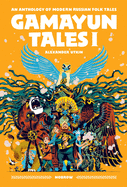 Alexander Utkin's Gamayun Tales series offers a striking combination of experimental artwork and action-packed storytelling inspired by the author's love of Slavic folklore. This volume compiles three previously published tales--The King of the Birds, The Water Spirit and Tyna of the Lake--into a single narrative concerning a merchant and his family whose lives are disrupted by a series of encounters with mythic beings. Gamayun, a half-bird, half-human purveyor of divine prophecy, acts as the tale's narrator.
Following a catastrophic war between the Bird and Animal Kingdoms, the King of Birds is wounded. He is rescued by an intrepid merchant, whose reward for his troubles is a magical golden chest that transforms into a lavish palace when opened. The merchant's joy is threatened, however, after he accidentally offends the jealous water spirit Vodyanov, who tricks the merchant into pledging his son's life to Vodyanov's service. With the help of Tyna, Vodyanov's magical "daughter," the merchant's son must escape Vodyanov's Kingdom without inviting the spirit's wrath.
Utkin's blocky figures and energetic brush strokes evoke the earthiness of a Russian woodcut and the playful experimentalism of 1950s Disney cartoons. His color palette glows with autumnal reds and golds, punctuated by bursts of aqua, lavender and cerulean. With its brash non-human characters and rolling eruptions of color, Utkin's wilderness is a force to be reckoned with--despite occasional heroics, his human characters remain wide-eyed interlopers, navigating the stormy seas of an ancient order they are barely allowed to glimpse. --Devon Ashby, Shelf Awareness