Legendary Children: The First Decade of RuPaul's Drag Race and the Last Century of Queer Life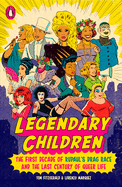 Fitzgerald and Marquez (who blog, podcast and write as "Tom & Lorenzo") have come up with a clever way to teach a new generation about a century's worth of LGBTQ pop culture and history. They examine the enormously popular TV series RuPaul's Drag Race and reveal how each element of the show is a tribute to a historical figure or event in queer history. "RuPaul and company devised a show that serves as an actual museum of queer culture and social history," write Tom & Lorenzo.
The mechanics of creating a drag persona and look in the Werk Room leads to profiles of non-gender-conforming activists Marsha P. Johnson, Sylvia Rivera and Stormé DeLarverie and the use of Polari (a British slang used in gay subculture). The Library mini-challenge on Drag Race, where contestants demonstrate their quick tongues and thick skin by stinging each other with shady insults, leads to a discussion on how marginalized and disenfranchised people decades ago often had only their sharp tongues to defend themselves. The scantily clad Pit Crew ("one of the more subversive aspects of Drag Race," write the authors, "putting unapologetic gay male sexual archetypes in front of the so-called mainstream") sparks discussion of old physique magazines and artists who glorified the male body, like Bob Mizer and Robert Mapplethorpe.
Legendary Children, a lively, fascinating, comprehensive and essential LGBTQ history lesson, will reach and educate a new generation. By showing how every aspect of RuPaul's Drag Race can be traced to longstanding queer traditions and pioneers, Tom & Lorenzo have revitalized history. --Kevin Howell, independent reviewer and marketing consultant