The Lost Future of Pepperharrow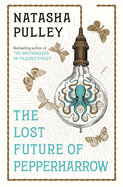 In this engrossing follow-up to The Watchmaker of Filigree Street, British novelist Natasha Pulley returns to the 1880s, trading Victorian Britain for a steampunk-influenced Japan, where her heroes encounter a ghostly mystery while shaping international events.
Synesthetic translator and pianist Thaniel initially balks when the British Foreign Office assigns him to Tokyo. The job takes on greater appeal when his lover, Mori, a watchmaker and samurai who can remember potential futures, offers to join him, as he's been summoned home by Kuroda, his long-time frenemy and Japan's new prime minister. However, when they arrive at Mori's beautiful estate with their adopted daughter, Six, in tow, Thaniel is astonished to meet Takiko Pepperharrow, the wife Mori never mentioned. While Thaniel grapples with doubts about their relationship, Mori plays a dangerous game of chess involving Japan, Russia and Britain, trying to bring about a future timeline even he can't exactly remember. When Mori goes missing, Thaniel is left to solve the mystery of his disappearance and the ghostly apparitions that manifest during a massive electrical storm.
Complicated relationships and international intrigue buoy the plot while Pulley's steampunk aesthetic lends a touch of clockwork fantasy to this complex sequel. While familiarity with the previous book will help readers find their footing more quickly, newcomers can enjoy this installment as a standalone. Rich descriptions of Japan and intriguing character development shine in this intricately wrought fantasy of history making. --Jaclyn Fulwood, blogger at Infinite Reads