The Voice that Won the Vote: How One Woman's Words Made History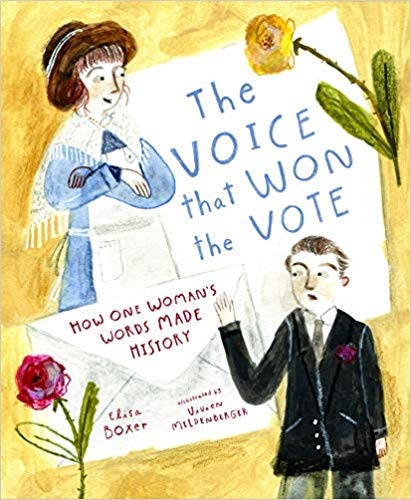 Journalist Elisa Boxer's quick and uplifting children's book debut tells a little-known tale from the annals of the women's suffrage movement.
"For nearly seventy-five years, [suffragists] had organized meetings... Marched in parades... Carried signs... And made speeches, demanding their right to vote." In 1920, Tennessee was the final state to vote for the proposed 19th Amendment to the U.S. Constitution; if lawmakers voted yes, it would be the 36th state to do so and the amendment would be ratified. If they voted no, women would have remained voiceless in United States politics. Because of a tie, Tennessee legislators had to vote twice. One man, Harry Burn, changed his vote from "no" to "yes," ultimately making the 19th Amendment law. The Voice that Won the Vote is the inspirational story of the force that changed Burn's vote: his mother. Febb Burn was college-educated in a time when most women didn't pursue degrees. She believed women should have the same rights as men in deciding the laws and lawmakers of the country. She told Harry so in a letter--the letter that changed his vote.
In her straightforward presentation, Boxer highlights the importance of doing what is right even if it isn't popular. Her friendly and upbeat text teaches readers about a mostly unknown hero, the story offering myriad starting points for discussion. Vivien Mildenberger (All in a Drop) illustrates in an uncomplicated style using an earth-toned palette, allowing her figures' facial expressions (scowls versus cheers) and body language (crossed arms, hugs) to take center stage, delivering emotions as powerful as the words they accompany. Writer and illustrator combine for a lovely commemoration of this historic event in U.S. history. --Jen Forbus, freelancer