Thin Places: Essays from in Between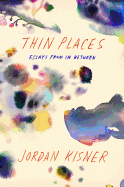 In her debut collection, essayist Jordan Kisner holds up a light to American culture in a way that is curious, searching, at times wry, but also deeply illuminating.
Thin Places: Essays from in Between lives up to its title as Kisner deftly navigates the liminal spaces between cultural traditions, history and identity. The 13 essays in the book are wide-ranging in subject matter yet always grounded in the personal. Kisner expertly stitches her personal history into larger explorations of religion and science. If some of the essays in the collection feel slight, such as "The Big Empty" or "Good Karma," it's because Kisner has raised the bar so high in other places.
Several essays stand out as stellar examples of Kisner's slowly penetrating style. The titular essay, "Thin Places," follows an experimental procedure for OCD patients before delving into Kisner's own struggles with the disorder and uncanny experiences she has had. "Habitus," perhaps her most personal essay, focuses on a long-running social pageant on the U.S.-Mexico border, which Kisner uses to frame her own Mexican ancestry and white standards of beauty and personal worth. That she can navigate tricky issues of identity speaks to her incredible skill as an essayist. The same skill is on display in one of the book's best, "Stitching," which focuses on the anti-Trump activist group called Mormon Women for Ethical Government. The piece becomes a powerful political statement on activism and idealism as Kisner discovers "a group of Americans who are not yet jaded about the limit of their power as citizens."
Thin Places bristles with intelligence. At its best, it's strikingly revelatory. Kisner has effectively announced her arrival to the pantheon of American nonfiction writers. --Scott Neuffer, writer, poet, editor of trampset