Wine Girl: The Obstacles, Humiliations, and Triumphs of America's Youngest Sommelier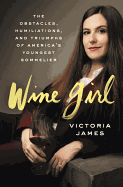 Victoria James (Drink Pink: A Celebration of Rosé) retraces the rocky road she traveled to become an award-winning wine expert who, at the age of 21, was the youngest sommelier to lead a Michelin-starred restaurant.
She divides her story into seven sections, mapping her life from age seven to 28. The prologue perfectly embodies the theme and tone of the memoir: James, a newbie sommelier at an upscale restaurant, must deliver a $650 bottle of chardonnay from Burgundy, France, to an elite, grossly chauvinistic customer. James quells her nervousness and uncorks the bottle, following protocol with "calculated precision." She tastes and approves the wine, which she describes as "like slipping into a bed made up with silk sheets." After the patron takes his own sip, he verbally demeans James--her youth and inexperience--and orders her to take the bottle back and uncork another. What ensues is an apt metaphor for James's life as she takes on the patron and her own fears, managing to appease the customer and her bosses, while also endearing herself to readers who will eagerly empathize with and root for her.
How she deals with challenges and conflicts--and proves to be a tenacious problem-solver, undaunted overcomer and go-getter--are what make James and her underdog story so appealing. Her flowing narrative defines and explains many terms used to describe wine and its aficionados. One word, however, sums up James's utterly engrossing coming-of-age and success story--Wonderful! --Kathleen Gerard, blogger at Reading Between the Lines