Bloody Okinawa: The Last Great Battle of World War II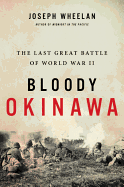 Bloody Okinawa: The Last Great Battle of World War II by Joseph Wheelan (Midnight in the Pacific; Terrible Swift Sword) is a comprehensive overview of the Battle of Okinawa, released in time for its 75th anniversary.
On April 1, 1945, the United States launched the largest amphibious assault in the Pacific theater of World War II against the Japanese island of Okinawa. Over the following 82 days, 184,000 U.S. troops fought 140,000 Japanese soldiers and Okinawan conscripts in a grueling battle of attrition. The Japanese had abandoned their former strategy of contesting beach landings, instead concentrating their forces into elaborate underground fortifications that turned every hill, ravine and valley into mutually supporting fortresses. Meanwhile, in the air, Japanese kamikaze pilots launched waves of mass attacks against American ships. The resulting carnage on land and at sea made clear that the planned invasion of mainland Japan would entail catastrophic casualties, and influenced the decision to drop atomic bombs on Hiroshima and Nagasaki. The battle for Okinawa ultimately killed 7,500 U.S. ground forces and 5,000 seamen, 125,000 Japanese soldiers and 100,000 civilians. Kamikazes sank 36 ships and damaged 368 others.
Wheelan provides a firm background to both sides and manages to keep track of disparate units and commanders without overwhelming readers. His use of first-hand accounts from the Americans, the Japanese and Okinawan civilians caught in between gives life to broader descriptions of unit actions. Still, the many formation movements and officer names make Bloody Okinawa more of interest to military history buffs than to general readers. For those already keen on the subject, Wheelan's book makes for grim yet fascinating reading. --Tobias Mutter, freelance reviewer