Broken Glass: Mies Van Der Rohe, Edith Farnsworth, and the Fight over a Modernist Masterpiece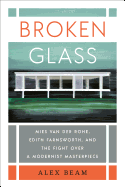 In 1947, Edith Farnsworth, a Chicago physician and art collector, wrote of German-born architect Ludwig Mies van der Rohe: "Those of us who know him intimately know him to be a great man, a great teacher, and a great architect." A few years later, Farnsworth was eating her words. Alex Beam has titled his scintillating look at Mies and Farnsworth's public feud Broken Glass, although the name of his earlier book A Great Idea at the Time would have worked for this one as well.
Mies and Farnsworth met at a dinner party in Chicago in 1945. Farnsworth asked Mies if he knew of an architect who would build her a weekend retreat along the Fox River. They struck up a friendship--it briefly turned romantic--and Mies accepted the challenge. Begun in 1949 and completed in 1951, the Farnsworth House was Mies's minimalist masterwork. The space had an open plan--not even the bedroom had walls--and the four exterior walls were made of glass. Some of Broken Glass's three-dozen-plus black-and-white photos show why architects and aesthetes loved the place. But they didn't have to live in it.
Farnsworth would discover when she moved in that the glass walls made the house unbearably hot in summer and excruciatingly cold in winter. There were structural problems with the house, but the biggest affront was Mies's bill, which ran well beyond the original estimate. For six weeks in 1952, they duked it out in court.
Nonetheless, Beam sees the comedy within the high drama, the cleverness behind the jabs. Broken Glass spotlights a timeless concern: whether the artist owes anything beyond the work itself. --Nell Beram, author and freelance writer