Brown Girl Ghosted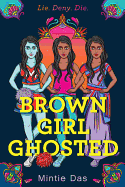 Avenging Assamese warrior queens fight to save America's Heartland from an evil spirit in this humorous whodunnit that dismantles popularity, prejudice and the dubious perks of being a high school superhero.
As a brown girl in a mostly white town, 16-year-old Violet Choudhury feels the safest way for her to get through high school is to blend in. Unfortunately, Violet's heritage is at odds with her chosen method of survival. Her "great-great-multiplied-by-like-a-hundred-more-greats-grandmother" Ananya was the queen of the ancient kingdom of Assam, located in present-day India. Ananya used her supernatural powers to help the gods, who then honored her by making her and all of her future female lineage "Aiedeo": warriors tasked with protecting the world from demon kings.
Since there can be only one Aiedeo per generation, all of Violet's teachers have been immortal spirits. In middle school, she could hide the fact that her dead relatives were teaching her how to shape-shift, but, after an accident when she was 13, she began ignoring their existence. The Aiedeo are getting more persistent, though, demanding that she resume her training. When Naomi, "cheer captain and all-around head bitch," turns up dead after a sex tape surfaces, Violet is charged by the Aiedeo--and a vengeful Naomi fresh from the "Ghost World"--to find her killer.
Mintie Das does a terrific job blending the everyday concerns of her heroine with the awesome responsibilities her legacy demands. Violet's journey to claim her inheritance is a compelling one that is also plenty of fun. Snappy banter, plenty of action and a host of supernatural beings make Brown Girl Ghosted, the author's U.S. debut, a refreshing choice. --Lynn Becker, blogger and host of Book Talk, a monthly online discussion of children's books for SCBWI