The Body Double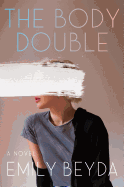 A "nobody" takes over the persona of a Hollywood "it girl" in the psychological thriller The Body Double by first-time author Emily Beyda.
A young woman--the nameless narrator--working a dead-end job in a nowhere town gets the opportunity of a lifetime. On her behalf, her boss answers an ad seeking a look-alike for a reclusive celebrity named Rosanna Feld, to whom the young woman bears an uncanny resemblance. Rosanna's handler, Max, explains Rosanna has had a nervous breakdown due to the demands of celebrity life, and Max offers the young woman the chance to take Rosanna's place in public appearances until Rosanna recovers. The job comes with a huge paycheck.
The only catch is, the young woman must fully commit to becoming Rosanna and can never return to her current life. After she fulfills her contract, the young woman will be set up with a new life overseas.
It's an easy decision, since her current life entails living friendless in her foster mother's basement and working ungodly hours for minimum wage. But there's something cold and untrustworthy about Max. The more the young woman appears as Rosanna and interacts with her celebrity friends, the more she realizes Rosanna didn't just have a breakdown.
The Body Double adeptly dissects the lure and, conversely, the demands that come with celebrity life in Hollywood, especially the loneliness of being famous for only being famous. Beyda shines especially in detailing the emotional, nail-biting transition of the faux Rosanna from a nobody to a somebody, and then descending into the madness of no longer knowing who she truly is. --Paul Dinh-McCrillis, freelance reviewer