The Last Taxi Driver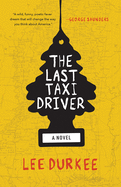 The Last Taxi Driver by Lee Durkee (Rides of the Midway) is the comic story of cab driver Lou Bishoff, a student of Buddhism with rage issues and a failed university professor who recites Shakespeare to keep his mind off the addicts in his backseat. He says, "We are the poor man's ambulance, and we are also, sad to say, the poor man's priest, our cab the confessional in which people litmus test their wildest fears and prejudices."
Lou drives a beat-up Lincoln in Gentry, Miss. Although he's driven so long he thinks he's losing his mind, he nonetheless tries to "come up with theories that make life fair, but of course it isn't." One fare, Cancer Max, is released from rehab after a cancer diagnosis. He heads to the Rebel Motel, a place for transients, because he has nowhere else to go. Lou looks in Max's room and says, "The room is clean enough but smelled of slit wrists." Lou frequently interjects pointed commentary while driving. "Don't take selfies at red lights," he warns. "It makes you look like a superfreak and is so dispiriting for others to behold it shatters their view of God and humanity and makes them desire an alien invasion."
The dialogue crackles with wit on each page. The characters, including fares, other drivers and Lou's miserable boss, Stella, are idiosyncratically pictured. This is a gonzo ride full of dark humor, philosophical insights and shrewd observations about the plight of luckless people in the United States. --Cindy Pauldine, bookseller, the river's end bookstore, Oswego, N.Y.