They Are Already Here: UFO Culture and Why We See Saucers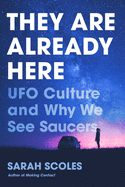 Opinions on the existence of UFOs vary, but what's known about the people who investigate them? In They Are Already Here: UFO Culture and Why We See Saucers, science writer Sarah Scoles (Making Contact) breezily marries journalism and sociological study to introduce professionals and hobbyists who make up the misunderstood UFO community.
Scoles is intrigued by those obsessed with UFOs, wondering why people "spent so much time on a phenomenon that they weren't even sure was a phenomenon." Beyond the expected scientists and military personnel, she discovers people like Tom DeLonge, former member of the rock band Blink-182, whose focus on studying UFOs has been at odds with his music career. His goal was to acquire funding to "reverse-engineer UFO type technology." Nevada businessman Robert Bigelow bought a Utah ranch consisting of almost 500 acres, then hired scientists and engineers to study all sorts of "phenomena," including UFOs, spending tens of millions of his own dollars.
What makes a person believe they've seen a UFO? One reason, says political theorist Jodi Dean, is that "raw information that feeds into our sensory organs has to be processed by our brain's algorithms, which were forged by our unique social, economic, geographic, political, historical, cultural circumstances." Scoles acknowledges unanswered questions about UFOs, and affirms the sincerity of believers. A skeptic to the end, she thinks, "Maybe our own world... is just stranger than we are ready to believe." This engrossing and well-sourced investigation will leave readers contemplating the human condition of "universal uncertainty." --Cindy Pauldine, bookseller, the river's end bookstore, Oswego, N.Y.